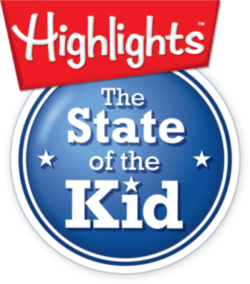 Highlights for Children's 2015 State-of-the-Kid
MEGCOMM Films of NEPA was recently commissioned by the Highlights for Children publisher to produce a 2015 video that 'gives kids a national platform to share thoughts on their experiences growing up today.'
In the video, State-of-the-Kid, kids answer questions that focus on discipline, indulgence, and competition. These questions include:
How are you disciplined?

Do you receive an allowance?

Should only the winning team get a trophy or should both teams get a trophy in a sporting event?
Their answers were thoughtful and honest, and often very funny.
MEGCOMM founder, Mike Gorga, conducted the interviews during a 2 camera shoot at the Lackawanna County Children's Library in Scranton, PA. An additional child was filmed later on green screen in MEGCOMM's Wilkes-Barre-based studio, and a background of a library environment was digitally incorporated. The project crew included MEGCOMM veteran Tom Mooney and another crew member, Owen Veneros.
CONTACT US FOR A FREE CONSULTATION
MEGCOMM Films is an Award-Winning corporate video, non-profit and television commercial production company serving the entire northeast.  We specialize in telling stories that help companies grow their brand, raise capital and inform and educate their workforce and customers.  Video production since 1985.