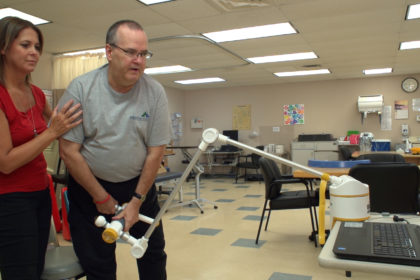 Local School Principal Survives Stroke
MEGCOMM Collaborates with MLB Advertising to Tell His Story in a TV Commercial & Web Video
John Woloski ALLIED SPOTLIGHT from MEGCOMM FILMS on Vimeo.
MEGCOMM Films collaborated with MLB Advertising of Wilkes-Barre to produce a 30 second television commercial and 3 minute web video for Allied Integrated Services, a rehabilitation system located in Scranton with additional locations around Northeastern Pennsylvania.  John was at work serving as principal of Solomon Plains Memorial Junior High School when he was struck down by a stroke.  He was taken to Hershey Medical center for evaluation and referred to Allied Integrated Services to begin the long recovery process.
Through the support of his family and extensive therapy at Allied Services, John has made significant strides to Get Back to the Life He Loves.
The interview was shot on-location at the Woloski home with rehabilitation sessions shot at Allied Services/John Heinz in Wilkes-Barre.  The interview was conducted by MLB's John Bartorillo, director of photography was MEGCOMM's Mike Gorga and Tom Mooney was sound recordist and gaffer.  The productions were edited in MEGCOMM's HD editing suite in the Wilkes-Barre based studio.
MEGCOMM provides a range of video services throughout the Northeastern United States and has crews on-call across the nation for our clients.
CONTACT US FOR A FREE CONSULTATION
MEGCOMM Films is an Award-Winning corporate video, non-profit and television commercial production company serving the entire northeast.  We specialize in telling stories that help companies grow their brand, raise capital and inform and educate their workforce and customers.  Video production since 1985.